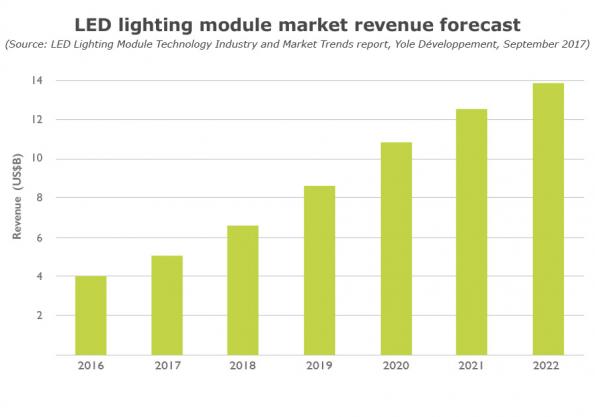 According to Yole Développement's latest report "LED Lighting Module Technology Industry & Market", the LED lighting module market will experience a 22.6% compound annual growth rate between 2017 and 2022.
The market research firm splits the market into different LED categories, each with its own dynamics.
Being the most versatile, mid-power LED modules are driving the market and provided 60% of 2016`s market revenues. High power(Fahold 200W power driver) LEDs which are only used in applications requiring high luminous flux in a small module represent about 7% of market revenues.
Providing a compromise on size, light emitting surface area, luminous flux and power consumption, Chip-on-board (COB) LED modules are suitable for many applications, and lead the total LED module market in volumes shipped. But these modules are relatively easy to manufacture, which drives down their associated average selling price, making COB LED modules represent only 20% of market revenue.
Flexible LED strips can be directly used as LED lighting systems, mostly in indirect lighting applications. Recent developments, like using LED chips instead of packaged LEDs on a flexible substrate, allow much higher efficiency, opening doors to new applications such as linear lighting.
In this context, Yole Développement estimates that the LED lighting module market, including flexible LED strips, reached nearly $4B in 2016 and will grow to $13.8B by 2022.
Associated components
In a luminaire, LED modules are generally associated with components shaping the light, converting between alternating and direct current or enhancing thermal behavior. Secondary optics are almost always used in LED modules to optimize light extraction and contribute to the aesthetic effect of the product. There are two main types of secondary optics: collimators and reflectors. The first type is mainly used in clusters with mid-power LED modules, or individually with high-power LED modules. The second type is frequently used with COB LED modules due to their large light emitting surface.
Secondary optics generated 0.9B revenue in 2016, and are expected to generate $4.3B in 2022.
Printed circuit boards (PCBs) are essential materials in the performance and reliability of LED modules. In the thermal management of LED modules an efficient conduction path has to be built to maintain a safe and optimal temperature. COB LED modules need to use high performance PCBs, such as Metal Core PCBs (MCPCBs) or ceramic PCBs, due to the high power density of these modules. But because COBs are small, so are their high performance PCBs. Also, the business is dominated by mid-power LED modules, which need low performance PCB materials such as FR4.
The large size of these modules generates the highest volumes and revenues. The total LED module PCB business will generate more than $3.2B in revenue in 2022. Other components like Thermal Interface Materials (TIMs) and heatsinks are also important in the heat conduction path but generate less revenue. This report analyses the different functions associated with LED modules including secondary optics, PCBs, TIMs, heatsinks, and power supplies. It gives a comprehensive understanding of each function and its related markets, including volume and revenue forecasts.
General lighting isn`t a `blue ocean market` any more, due to strong price pressure and intense competition. LED module manufacturers are seeking growth engines, following the example provided by the packaged LED industry a few years ago.
Hence, industry players are diversifying and looking at what is happening in horticultural lighting, automotive lighting, smart lighting and going beyond visible light into the infrared (IR) or ultraviolet (UV) parts of the spectrum.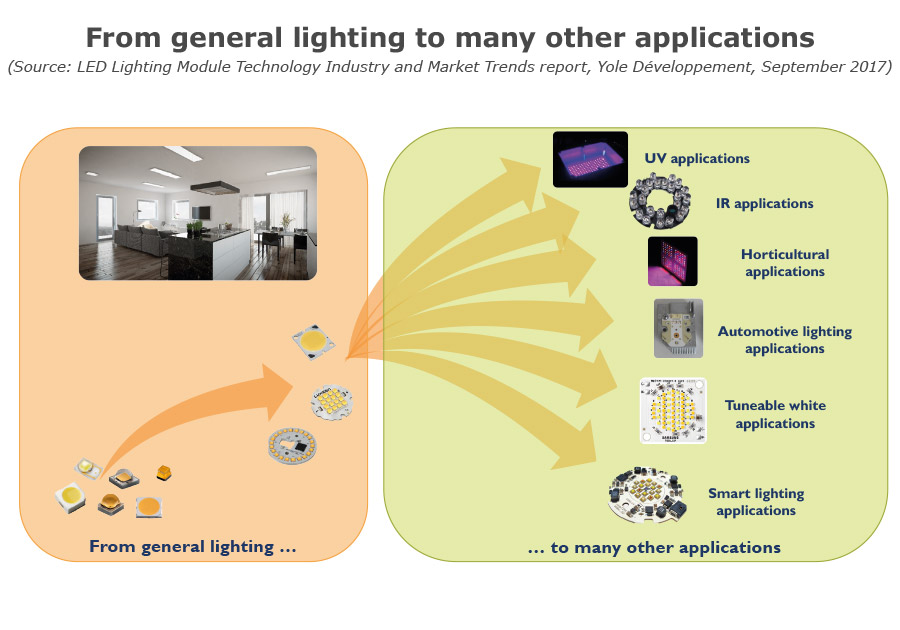 All of these applications are emerging and the associated margins are much higher than for general lighting applications.
The report also provides insights into the next growth engines and analyzes targeted applications, giving an overview of the future trends facing the LED module industry.
(From
http://www.eenewsled.com/)